About iVapour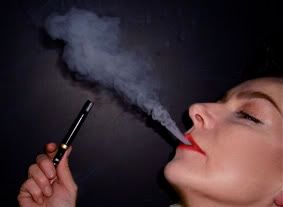 Featuring Sarah from Butterfly Buckles showing off a marvelous plume, produced by the revolutionary
Janty Classic Kissbox model electronic cigarette!
Welcome to iVapour! Established in early 2009, iVapour is devoted to retailing the best electronic cigarettes on the market. It is dedicated to retailing the Janty brand, the leading innovators of e-cigs worldwide. Previously only available in mainland Europe and the USA, now the full range of Janty™ models of e-cigs and supplies are available in the UK!
Janty has been actively involved in the electronic cigarette smoker community since 2006, and has since grown into one of the world's most respected e-cigarette designer and manufacturer. Through its innovative research and development, Janty is recognized as the symbol of excellence that has consistently sought to perfect radical alternatives.
Janty introduced the Kissbox in 2008; based on the KISS (Keep It Simple and Slick) principle, it was the first e-cig to use manual switch buttons for ease of control, as well as the option for using via USB direct power. In 2009 Janty launched the first ever non-cigarette-shaped e-smoking device, the Janty Stick, and the first e-cig to be able to be charged and used simultaneously. In December 2009, Janty introduced the eGo, a long lasting battery powered vaping device that comes in an avant garde, ergonomic design.
Janty was also the first to depart from the traditional white stick/red LED e-cigarette design, always striving to create designs that also take into consideration the aesthetic functions of the e-cigarette that consumers desire. Janty pioneers originality, creative design, and consistent quality in e-cigarette design and production.
For the uninitiated - the electronic cigarette (also known as e-cigarette or e-cig) acts very similar to a regular cigarette, producing a nicotine vapour that can be inhaled, that is similar to tobacco smoke. It is not meant to be a quit smoking device, it is for recreation; it is an alternative to smoking tobacco cigarettes. But there is no smoke; there is no combustion. And over time, lower strengths of nicotine liquid (also known as e-liquid or e-juice) and cartridges can be used to reduce nicotine intake.
Most importantly this product is an option as it used by inhaling vapour without the harmful toxins (4000+ chemicals), tar and carcinogens that are contained in tobacco smoke; it is a true alternative to smoking tobacco. Not only does it satisfy nicotine cravings but it has the same tactile action and oral fixation, with a reminiscent flavour, as smoking a real tobacco cigarette.
Thank you for your interest in our product.
It really is revolutionary!
From all of us at iVapour - as our friends in Estonia say -
"Smoke undisturbed and without disturbing the others!"